Content
Theoretical topics:
• Principles of Surgery with emphasis on orofacial and ENT surgery - Incision & excision of tissue, haemostasis, handling and care of tissues, closing with sutures.

• Hard palate surgery – Palate defects, langenbeck technique, bone healing, overlapping double flap technique, split palatal U-flap technique, oronasal fistulae, prosthesis.

• Surgery to correct brachycephalic obstructive airway syndrome -, stenotic snares, overlong soft palate, laryngeal hypoplasia, laryngeal collapse, laryngeal sacculectomy.

• Maxilectomy & Mandibulectomy techniques– Diagnosis, incisional biopsy, excisional biopsy, therapeutic decision making, ostectomy and osteoplasty, vestibular mucosal-submucosal flap, Alveolar mucosal periosteal transposition flap, palatal mucosteal flap, rostral mandibulectomy technique, PAD on surgical specimen, postoperative management and complications, cosmetics.

• Reconstruction of facial structures – Nasal plane tumors/resection/reconstructive surgery, crescentic nasojugal flap, tension relieving techniques, U-flap, H-flap, caudal auricular artery, superficial temporal artery, facial artery axial pattern flap, omocervical axial pattern.

• Ear surgery – Othaematoma, aurical diseases, Pinna amputation cat. Ear surgery; lateral wall resection, vertical and total ear canal ablation, ear canal tumors, lateral and ventral bulla osteotomy, surgery ear canal polyp.

• Jaw fracture repair techniques – indications for repair, biomechanics and principles of jaw fracture repair, bone implants, orthopaedic wiring, methods of repair, pharyngotomy intubation, intermaxillary fixation, tape muzzle, upper jaw fracture, mandibular fracture, bonding canines, intraoral acrylic splint.

Wetlab sessions:
The theoretical topics mentioned above and discussed in class can be performed on cadavers and practiced under supervision of both lecturers during wetlab sessions. This will give you plenty of opportunity to try out new techniques whilst improving your skills and confidence with the help of the instructors.

Course goal
This module prepares the general practitioner to both theoretically and practically deal with common orofacial and ENT diseases, medically as well as surgically. Many of the procedures taught you will be able to perform in your own practice, but the course will also highlight which patients are best referred to another specialist.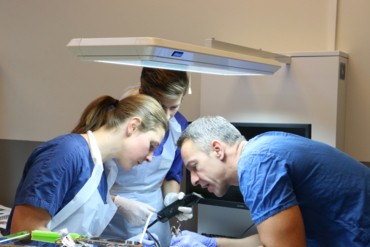 Course fee
19 800,00 kr
Interest inquiry
At the moment there are no vacancies at the course. Please make an expression of interest.
Expression of interest